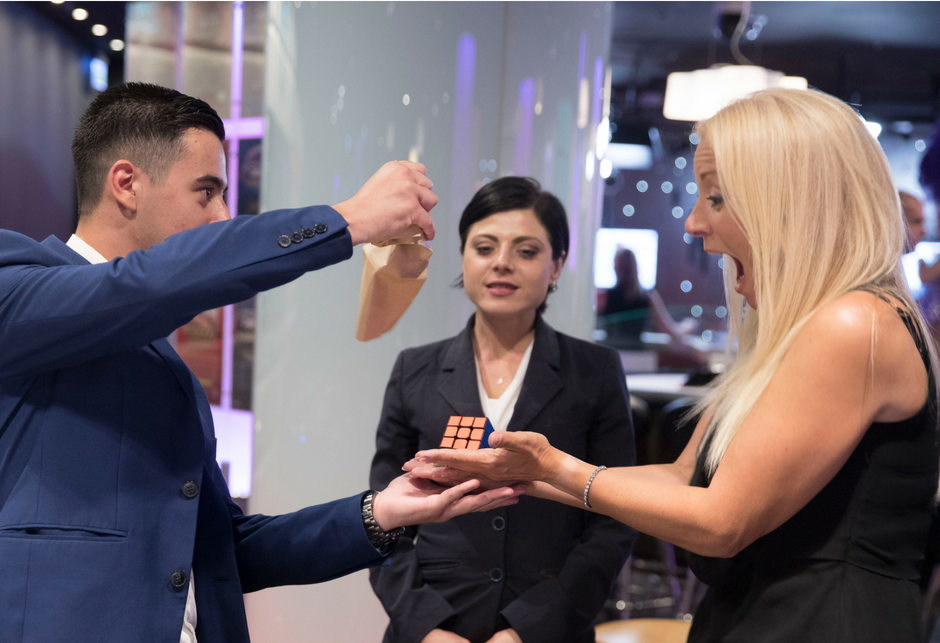 Slide 1
Magic That Guarantees OMG Reactions
Slide 2
When Was Your Last OMG Moment?
Slide 3
Add A Touch Of Comedy & Magic
Leading Comedy Magician in Malta
"A few days after the event and people are still talking about his performance."
Are you ready for that OMG moment?
OMG Magic is your number one choice for leading comedy magic in Malta. Magician Gwilym Bugeja brings his charisma, wit and skill to every event, show and performance that he gives. And after 9 years of wowing the crowds both locally and internationally; with a simple snap of the finger; OMG Magic was born in 2018. 
Gwilym feeds off the crowd's energy and response to deliver each trick and sleight of hand with his unique and personalised shows. You never really know what to expect in one of Gwilym's shows; although you are always guaranteed that OMG reaction… that's 'Oh My Gwilym!' ladies and gentlemen. 
OMG Magic Shows
Does your event need some oomph? Just add OMG Magic.
Testimonials
AX Holdings
Highly recommended! I had the pleasure in booking Gwilym for an employee awards night and not only were the people impressed by his magic, but the wittiness, charm and comedy act was super!
A few days after the event and people are still talking about his performance.
The intimate group magic during the standing reception was welcomed very well and gave an extra special touch to the evening!
Well done Gwilym! 2 thumbs up and definitely 5 star service!
BMIT
BMIT Ltd engaged Gwilym to entertain our guests for our annual client event. From the get-go he was professional, arriving on time and keeping the crowd intrigued with a wide variety of illusions.
He's fun, witty and a pleasure to have at any event as the feedback we received was brilliant.
Well done Gwilym!
Amsterdam Magic Show
Testimonial
Amsterdam Magic Show
We booked Gwilym Bugeja for the Amsterdam Magic Show and we were extremely happy with our choice.
His charm, comedy, and magic put smiles and astonishment on our guests' faces.
Thank you for performing at our show and we look forward to welcoming you back!