Close Up And Walk Around Magic
"A few days after the event and people are still talking about his performance."
Whenever you're planning an event, you want to make sure that your guests are 100% engaged for as long as possible! With Gwilym's Walk Around Magic mini-acts, you can rest assured that your guests will never want to leave, hoping to watch the great Gwilym pull another trick out his sleeve! Walk Around Magic is all about breaking the ice with clever and eye-catching acts that make you look back and wonder what the crowd behind you is gasping at – the perfect addition to an important event, conference or trade show.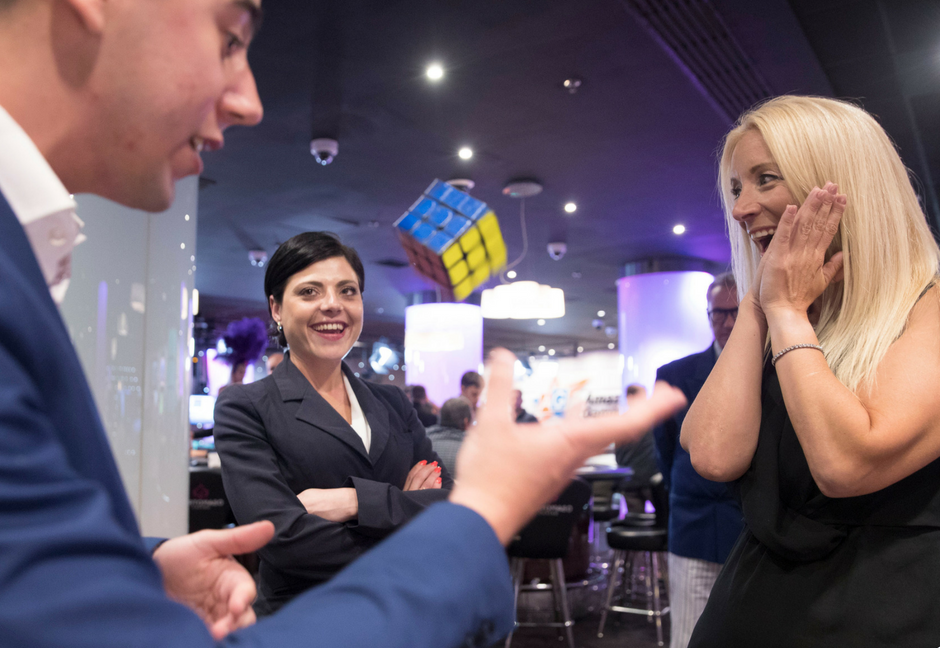 WHAT MAKES OMG'S WALK AROUND MAGIC UNIQUE?
Gwilym's Walk Around Magic is delivered at events to bring about that ooh ahh effect! With Gwilym's ninja-like techniques of popping in and out of your group's conversation, you'll never be stuck for what to say or how to mingle with your peers. Saved by the Gwilym will be your instant thought, relieving you from that awkward conversation or those blank stares that sometimes happen in big crowds at a formal event. With Gwilym's magical expertise, memorable moments will be created, allowing you to connect with other guests or attendees and give you an experience that you'll never forget!
During his Walk Around Magic, Gwilym will be the catalyst that breaks the silence, adds some fun to an otherwise drab conversation and adds in extra cheer when the group chat is already buzzing. With magic tricks taking place right before your very eyes or in the palm of your hands, OMG reactions are just around the corner! Gwilym's charismatic approach to magic and comedy comes in handy when the life of the party is otherwise absent. He also pumps up the fun and feeds off the crowd's energy when there's not much chuckling happening in a group of people!
GWILYM SHARED HIS ANSWERS TO A FEW OF YOUR FREQUENTLY ASKED QUESTIONS. HERE THEY ARE: